Trends and tips for successful mid-career recruitment by industry and job type.
Industry expert consultants clarify the industries and professions in high demand.
en world Japan K.K. (headquarters: Chuo City, Tokyo, president: Vijay Deol), one of Japan's largest recruiting firms specializing in global human resources, published the white paper How to succeed in mid-career recruitment and overcome COVID-19 pandemic in 2021, for foreign capital companies and Japanese companies on March 2. 
 
Background to the Publication
In 2020, the Covid-19 pandemic resulted in significant changes to company management, employee work styles, and recruitment. With regard to recruitment, companies are under pressure to respond to a variety of changes in the in-demand professions and critical skills for future business operations, as well as to the shifts in the means of communication, including interviews with people wanting to change jobs.

How to succeed in mid-career recruitment and overcome COVID-19 pandemic in 2021 was published to provide support for companies as they recruit human resources this year. Recruitment consultants specializing in a wide range of industries and professions clarify the characteristics and trends of companies that successfully recruit according to data on corporate recruitment activities in 2020 along with the necessary actions that companies should take to achieve their goals. 
en world will continue to offer support for the recruitment and business success of foreign capital companies and global Japanese companies by sharing an abundance of information across a broad range of job market areas.
 
Overview
■Mid-career recruitment strategy for 2021 to survive in the COVID-19 pandemic Permanent
    Recruitment, Contract professionals, RPO
■Trends by industry and job function and the key to success in mid-career recruitment in 2021
【By Industry】
  IT・Telecommunication, Manufacturing, Industrial, Medical Devices, Pharmaceutical, and Life Sciences, Consumer Goods and Retail, Banking and Financial Services, Consulting
【By type of job】
  Human Resources and General Affairs, Accounting and Finance, Legal and Compliance, Supply Chain Management
【By position】
  Recruiting of Senior Leadership Roles(Executive Search), Contractors(Contract Professionals)

ーーーーーーーーーーーーーーーーーーーーーーーーーーーーーーーーーーーーーーーーーーーー
How to succeed in mid-career recruitment and overcome COVID-19 pandemic in 2021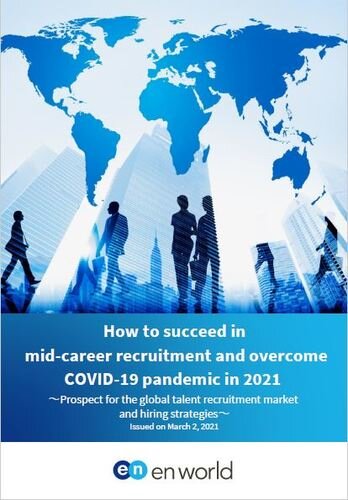 Download:  English / Japnese
ーーーーーーーーーーーーーーーーーーーーーーーーーーーーーーーーーーーーーーーーーーーー
Content (a partial excerpt from the body )
【Permanent Recruitment(Kanto area)】
The reasons for applying for a job among job seekers used to be mainly annual income, work-life balance, and office location, but now, they care more about whether or not remote working is available. An awareness that COVID-19 is not transient is about to become the common norm, and there is no doubt that the ideal state of workstyles in the future will play an important role in selecting a company. It is necessary for companies to actively share a lot of information about themselves in the market.
Vice President, Permanent  Recruitment  Takeshi Kitsunezaki
【IT,Telecommunication】
Many firms have a rather positive outlook in terms of hiring for IT in 2021. Talent demand will continue to increase for those job seekers that can communicate with the local stakeholders and work with global IT counterparts. The challenge for organizations will be on how they will be able to attract these talents as the pool are quite limited. Thus, those firms with a strong story and fast recruitment processes will be able to capture top talent.
IT Division, Sales Team Manager  Kentaro Matsuo
【Manufacturing,Industrial】
Digital professionals are increasing their competitiveness, and talent needs for promoting DX will further accelerate. During and after 2021, moves to demand experienced workers in different fields from other industries than past manufacturing and engineering, such as mechatronics, electricity, and software, are expected to increase. Successful recruitment of IoT and AI-related talent necessary for promoting DX is considered the major cause of improvements in competitiveness. How companies will evoke the attractiveness of the dynamic manufacturing market, which has a 20% share of the gross domestic product (GDP) and transforming with DX promotion into the career-change market will decide the talent that can be hired.
Manufacturing, Industrial Division, Associate Director  Aki Nagashima
 
Message from the President
en world will continue to strive to deliver on our mission of enabling our customers' success. Throughout 2020 we have made significant efforts to quickly adapt to new working styles with relevant investments in technology to allow our consultants to continue to engage with clients and job seekers. We have also driven initiatives to work more closely with clients and coordinate more effectively across our various teams and divisions. Besides, we are enhancing our collaboration with our parent company to provide more comprehensive solutions to our clients.  
At en world, we are optimistic about the prospect for 2021 and the post-COVID-19 world as we are well-positioned to continue to improve the quality of service, we can deliver to enable success.
President &Representative Director Vijay Deol

​
About en world Japan (https://www.enworld.com/)
en world Japan is a recruiting firm established in 1999 specializing in global human resources with offices in four countries in the Asia-Pacific region. We specialize in supporting Foreign Capital Companies and global Japanese companies in recruiting human resources for middle to high level positions. We help companies with recruitment and job seekers with career changes from every angle by staffing full-time workers, contract professionals, and executive human resources and providing recruitment process outsourcing solutions.

Contact information for inquiries about this news release
en world Japan K.K.  PR representative
Email : enworld-pr@enworld.com
Tokyo Square Garden 12F, Kyobashi 3-1-1, Chuo-ku, Tokyo 104-0031